Meet Fuller Bust Fashion Designer, Miriam Baker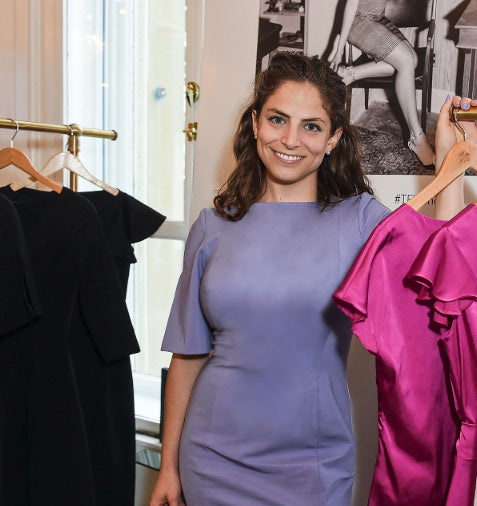 Miriam Baker, Founder & Designer
As a designer with a full chest, Miriam understands the challenge women face when it comes to finding sophisticated and well-fitting apparel. She creates clothing that exudes confidence and embodies understated elegance. As a believer in timeless design, the quality craftsmanship of Miriam Baker pieces means they will last season after season, becoming staples in a woman's wardrobe.
 
Born and raised in Toronto, Miriam studied fashion design at George Brown College and received her Bachelor of Design from Ryerson University's School of Fashion. In 2014, Miriam won the prestigious Suzanne Rogers Award for Most Promising New Label and was featured as a designer to watch in Flare magazine. She was profiled in Women's Wear Daily for being the first designer to win the coveted title for a collection geared towards women with fuller busts. In 2020, Miriam graduated from the Fashion Institute of Technology's Design Entrepreneurs mini-MBA program in NYC.
Miriam Baker is proudly Canadian and manufactures in house in the heart of downtown Toronto. Every step in the production process is carefully watched over to ensure the highest quality. We cut, sew, and package your piece right after your order comes in. This is why we ask for two weeks from the day you place your order to the day you receive your outfit. Mainstream companies mass produce thousands of garments every season, and this practice leads to copious amounts of waste. By making sure every garment has a home before we cut and sew, we move towards a more environmentally friendly industry standard. 
Curious about our offering?
Shop Our Best-Selling Styles.
Miriam Baker has been featured in...