Sizing
| | | | |
| --- | --- | --- | --- |
| SIZE | BUST | WAIST | HIP |
| XXS/00 | 33" / 84 cm | 24" / 61 cm | 34" / 86 cm |
| XXS/0 | 34" / 86 cm | 25" / 64 cm | 35" / 89 cm |
| XS/2 | 35" / 89 cm | 26" / 66 cm | 36" / 91 cm |
| XS/4 | 36" / 91 cm | 27" / 69 cm | 37" / 94 cm |
| S/6 | 37.5" / 95 cm | 28.5" / 72 cm | 38.5" / 98 cm |
| S/8 | 39" / 99 cm | 30" / 76 cm | 40" / 102 cm |
| M/10 | 40.5" / 103 cm | 31.5" / 80 cm | 41.5"/105 cm |
| M/12 | 42" / 107 cm | 33" / 84 cm | 43" / 109 cm |
| L/14 | 44" / 112 cm | 35" / 89 cm | 45" / 114 cm |
| XL/16 | 46" / 117 cm | 38" / 97 cm | 47" / 119 cm |
| XL/18 | 48" / 122 cm | 41" / 104 cm | 49" / 125 cm |
| XXL/20 | 50" / 127 cm | 44" / 112 cm | 51" / 130 cm |
| XXL/22 | 52" / 132 cm | 47" / 119 cm | 53" / 135 cm |
Have questions? Would you like to see a specific garment offered in a more generous size? Please contact us here, and we will get you into the perfect fit.
How To Measure
To determine your size, take measurements of the following areas:
BUST
The fullest part of your bust, keep the measuring tape horizontal.
WAIST
The slimmest part of your waistline, above your navel and below your ribcage.
HIP
The fullest part of your bottom, approximately nine inches below your waistline.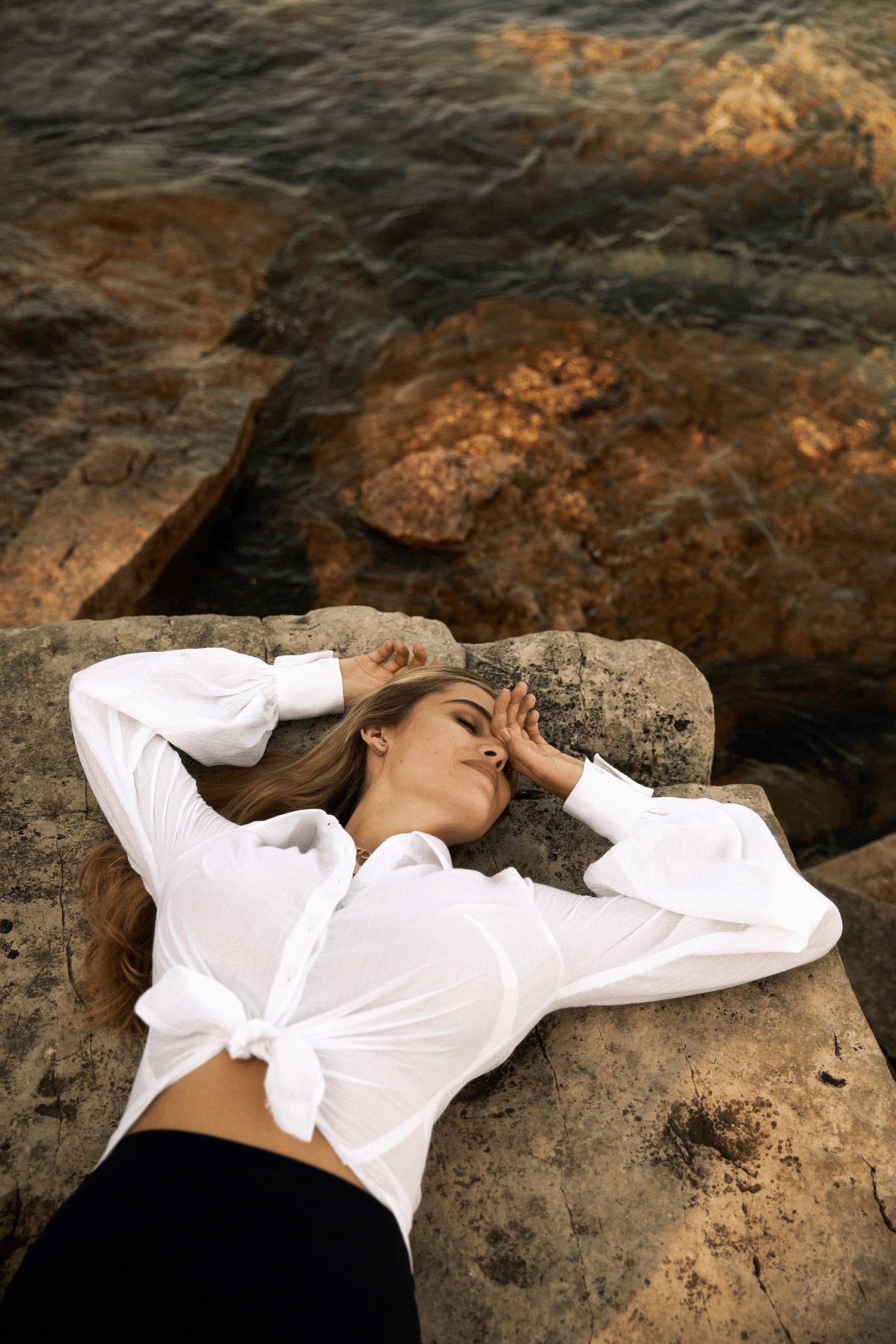 Fit
The reality for busty women is that it's next to impossible to find dresses and tops that fit, off-the-rack.
Why do we have this struggle? Over the last 30 years, the average bra size has increased by three cup sizes from 34B to 34DD. That's a huge change. But the fashion industry still designs women's wear to fit the B cup standard from almost a century ago, leaving full-chested women without options.You don't get proper fitting clothing by making clothing larger. For a large bust, you must design using a different waist-chest ratio, and then incorporate seams and details that flatter this silhouette.

It isn't a problem with your body, it's a problem with clothing design.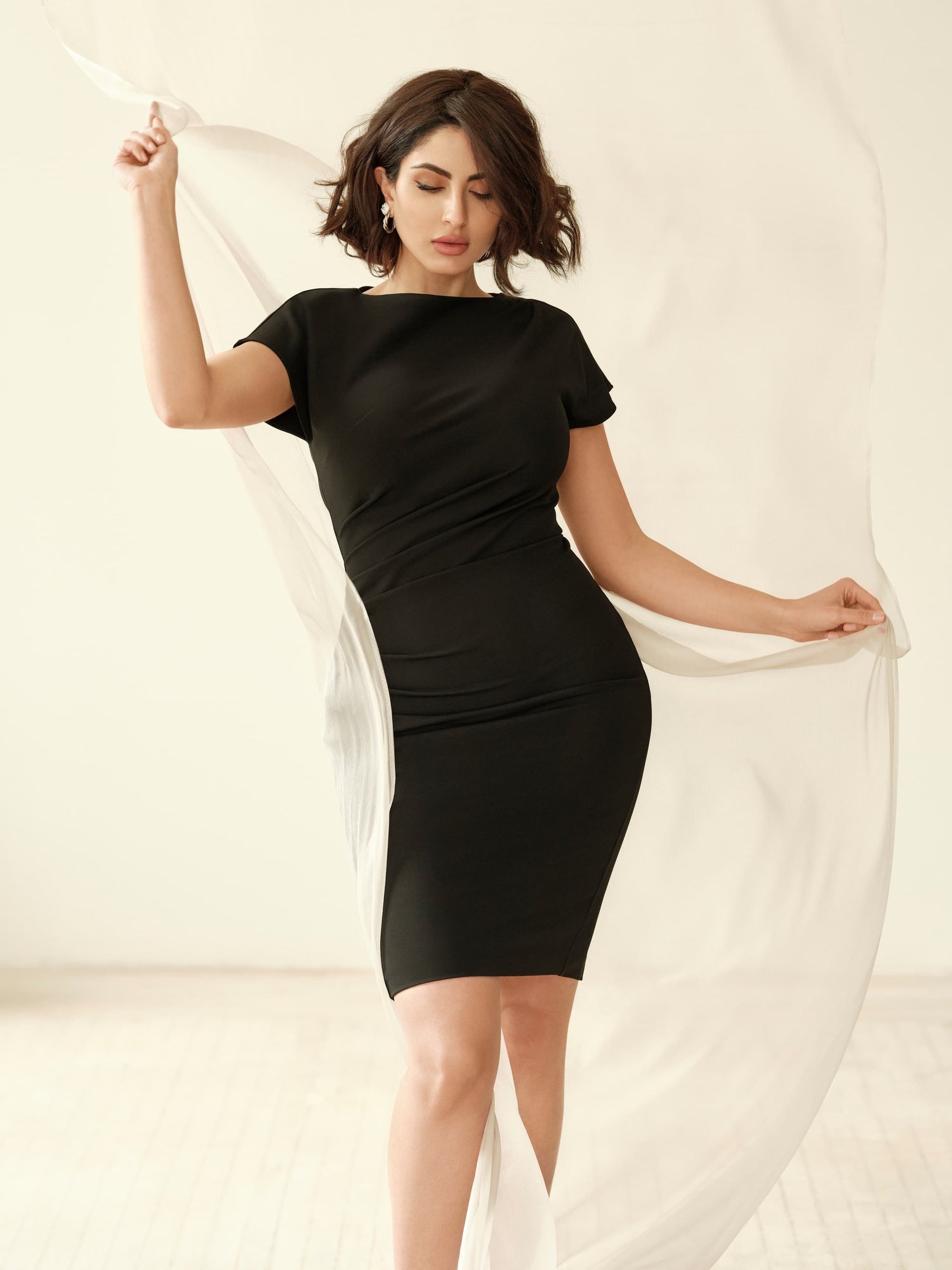 What Goes Into Our Clothing
Model & Grading
Our sample size is designed to fit a woman with a D-cup bust but we don't stop there. We use a complex grade that accounts for the fact that as the bust increases, the bust point drops. Ever had a bust dart hit your pectoral muscle? That's why. If your boobs can't defy gravity, neither should your grade.

Fabric Selection
I work with several mills in Italy used by the top fashion houses. From their collection, I choose fabric with a bit of stretch for a tailored and comfortable fit. It's the most flattering fabric I've found.

Darts, Seams & Details
While I design with a 'less is more' mentality, I still obsess over the details. It gives the clothing its finish and beauty. With seams and clever dart placement, I can define the waist and create a modern, hourglass figure. 

Body Type
It's not only the bust that defines you. I design styles that are flattering for different body types whether you are straight, balanced, or curvy. I'll also let you know when I've found something universally flattering.
My Goal For You
I want you to feel beautiful when you put on your clothing, off-the-rack. I want you to see your waist and wear your size. My clothes are meant to be sophisticated and timeless. They are pieces you can wear everyday, day or night, and pack on all your travels.  
What About The Bra?
I swear by my bras. They are the most important foundation garment and will help you look and feel your best.
I am proud to offer my favourite fuller bust lingerie brand in store and online - Primadonna.
You may ask - why does an independent clothing brand carry a lingerie line?
It is because we care about you - the customer!
When buying a garment we want you to look and feel your best and this always begins with the foundation.
Start Shopping